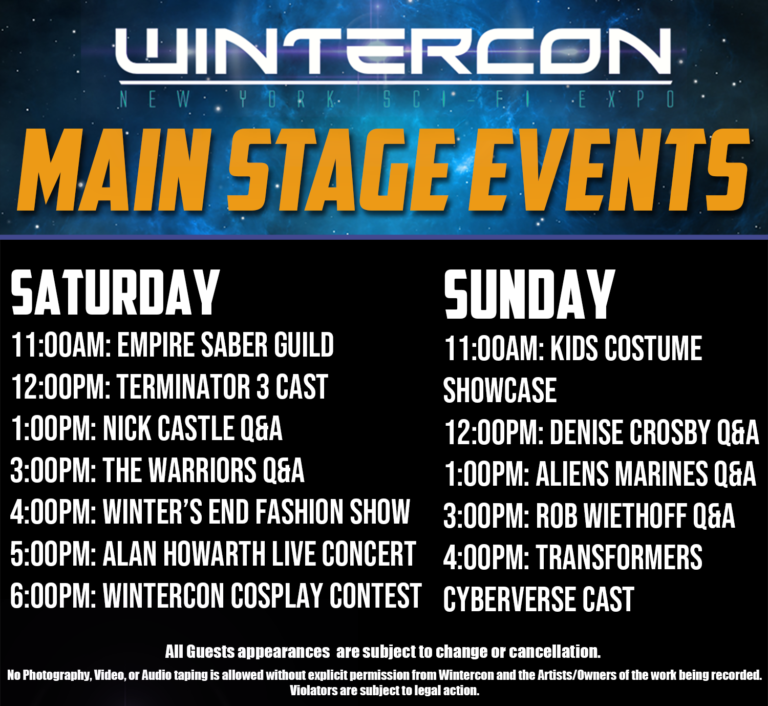 SATURDAY PANEL ROOM
11:00am: Self-Publishing and Working in the comic Industry 
Learn how to collaborate in comics, kick starters, and how the process is for creating your own published work and how it is working with retailers.
12:00pm: The Classics/ The Current/ The Continuation of Star Trek's Legacy!
Discussing all the classic incarnations of star trek up to the present and how it continues the IDIC quest for diversity and inclusion.
1:00pm: HenryQ Comics: Birth of an Indie Comic Book Publisher
In this panel, they discuss the birth of HenryQ Comics and the motivations for starting this new business venture, and how its characters differ from their other companies. 
2:00pm: The past and future of Power Rangers Unworthy: the hit online fan series
Description-Learn more about Unworthy Productions, the creators of the hit fan series Power Rangers Unworthy (with over 15 million views on YouTube!), the indie filmmaking process, and their future projects! Q&A session for the fans.
3:00pm: THE FLICKBOOK – The Matrix Resurrections
Grab your best suit and gown, a lovely cummerbund, and the perfect matching hat as you join the 2ndRounds crew as they get FANCY SCHMANCY for the newest way of movie recaps! 
4:00pm: Cosplayer's SecretsEver wondered how cosplayers look so perfect? 
This panel will reveal the tips and tricks that Cosplayers won't tell you! 
5:00pm: "Light It Up!  Lightsaber Stage Choreography in NYC"
Come join Saber Guild: Empire Temple and Rogue Alliance as they discuss who they are, what they do, what makes them unique – and how YOU can join in all their fun!
6:00pm: Trailer Park
Fearsmag.com's Joseph Mauceri presents the FEARSmag Trailer Park, featuring trailers and features for some of the upcoming films, both independent and studio projects, for 2022!
SUNDAY PANEL ROOM
11:00 – Cosplaying for kids – With a Kid!
Come on over to learn some tricks and tips to cosplay on a budget and make some easy cosplays yourself. Meet Violette a 10-year-old cosplayer, she can tell you all about getting your parents involved and having fun cosplaying. Afterwards let's have some fun together with a surprise activity!
12:00 – Marvel Universe Extended – – From Comics to Cinema
How comics and movies differ and what storylines / back stories would be good to see on the big screen, along with unsung heroes.
1:00 – Destroy All Dogmas: Monster and Metaphor in Daikaiju Eiga
In this multimedia presentation discussion of film clips and images from giant monster movies and their cultural history, panelists will discuss literary, philosophical, and political metaphor of the subgenre, known in Japanese as "daikaiju eiga".  Presentations will be interactive and include time for audience questions and other activities such as games and prizes. 
2:00 – The history of Star Trek
A true trail blazer of diversity and inclusion.  Including the origins of the Vulcan Salute.
3:00 – Breaking into comics and Variant covers  
Learn the different mediums of COMIC Creating as well as how it is to break in to comic variants, Also see artwork from upper deck and Image comics.
ALL PROGRAMING IS SUBJECT TO CHANGE WITHOUT NOTICE

Wintercon has great events going on all weekend long!  Informative panels, movie screenings, Q&A's, a little bit of everything for everyone!